One my favorite poets ever was Lorine Niedecker, a remarkable woman who spent most of her life living and writing on Blackhawk Island on the Rock River, just outside of Fort Atkinson, Wisconsin. At her death, she left behind a little library (including her now infamous 'Immortal Cupboard', which consisted of, among other things, her treasured copies of "Marcus Aurelius [his Meditations], Thoreau's Walden and Japanese Haiku and standing beside that is [Louis Zukofsky's] Test of Poetry" (letter to Zukofsky, June 1, 1958)). Her books were donated to the Dwight Foster Public Library by her widower Al Millen where they were permitted to circulate with the rest of the library's collection for some time, before librarians recognized the unique historical treasure they had been given, and built a small little historical exhibit that you can still visit and peruse. The first time I went to see Niedecker's library, I went first to her 1927 Everyman's Library copy of Thoreau's Walden (which also has a special place in my own immortal cupboard) and found between the cover and title page a small yellowing slip of paper on which Lorine had written in her gentle cursive script: "Of Thoreau – He chose to be rich by making his wants few. – Emerson". I was enormously touched.
I spent most of that day looking for Niedecker marginalia. It was one of the best days I've ever spent researching anything. A few months later I was stunned and overjoyed to learn that Tom Montag had spent more than 120 hours carefully going through all of Lorine's surviving books and recording her marginal annotations. You can see them all on the Friends of Lorine Niedecker website.
I'm posting this because of a chance discovery I made in that marginalia earlier this week while I was looking for something else. I saw with interest that Lorine owned a copy of legendary Wisconsin Senator and Progressive Party leader Robert La Follette's Political Philosophy (published in 1920), the inside cover of which says simply, "Lorine Niedecker – Junior Year" (she graduated from high school in 1922). The annotation that caught my eye wasn't particularly expressive, in fact, all Niedecker had done was to mark the passage with brackets. It was the contents of the passage itself that interested me, particularly in light of the recent political protests here in Madison (and the ongoing 'Recall Walker' [and Kleefisch] movements) and the burgeoning Occupy [ ] and We Are the 99% movements. In a speech given on the Senate Floor in September 1917 (a time of war) responding to objections made by Senator Porter McCumber (North Dakota) regarding a 'War Profits Tax', La Follette asks: "Who does the senator think are the people of this country? Is it the 2 per cent, owners of two-thirds of the wealth, or is it the 98 per cent of the population who have to divide among themselves the meager balance of this country's wealth, which, apportioned among them per capita, is a little over $800 apiece?" La Follette's math needs only slight updating, and the current mood is even slightly more inclusive ("We"–"We the People"–"The people of this country" are now the "99%" rather than La Follette's "98 per cent"), but the sentiment seems remarkable relevant, and I'm pleased to see traces of the deep roots of Wisconsin Progressivism made visible in the material history of Lorine Niedecker's reading practices.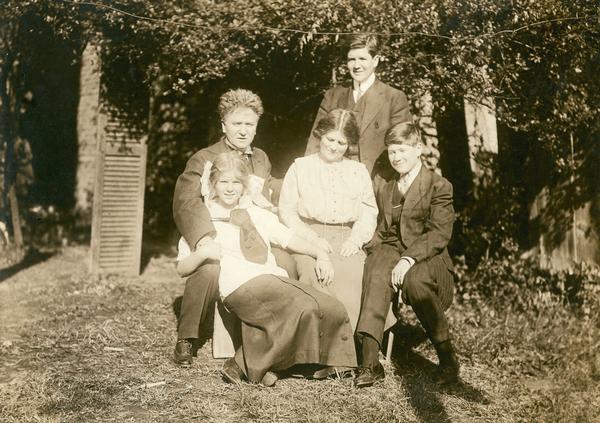 It seems also to me that there is an interesting connection between the two chance passages I've noted in this blog post–Emerson's idea of Thoreau's richness consisting in a voluntary austerity and La Follette's excoriation of the 2 per cent who own a full two-thirds of the nation's wealth. While there is a certain stoical wisdom in pursing that kind of 'poverty that enjoys true wealth', there is also a very real danger in following too ardently the Thoreauvian path of contentment with few wants (or the Christian version of 'noble poverty' expressed memorably in 1 Timothy 6:6: "godliness with contentment is great gain"), inasmuch as such a choice might resign us seeing the sometimes crushing meagerness of others' material conditions as a basic, inalterable social fact–something along the lines of the shoulder-shrugging, responsibility-shirking way some Christians seem to interpret Jesus' remark that "The poor ye have with you always" (Mark 14:7). It seems to me that Niedecker chose quite clearly to both see herself as one of the 98 per cent–I do wonder what her "I am the 99%" missive might have looked like, though I doubt she would have written something so confessional, much less photographed herself holding it–as well as one who, like Thoreau, strove to be rich by keeping her wants few. I do think, though, that however much we consciously limit the proliferation of our own consumptive desires, we should not extend a similar restraint forcibly upon others, but allow for the flowering of a vast diffusion of desires and wants in our fellow beings, a flowering which requires some basic conditions of comfort, peace, and fertility. I suppose that what I am really trying to say is that no matter how few we make our wants, it seems imperative to me that among them we must retain the desire that forms the heart of George Oppen's remarkable poem "Street", namely an "end of poverty" and the "real pain" that so often accompanies it:
STREET
Ah these are the poor,
These are the poor-Bergen street.
Humiliation,
Hardship…
Nor are they very good to each other;
It is not that. I want
An end of poverty
As much as anyone
For the sake of intelligence,
'The conquest of existence'-
It has been said, and is true
And this is real pain,
Moreover. It is terrible to see the children,
The righteous little girls;
So good, they expect to be so good….