I love independent and non-commercial radio, especially college radio and community-supported radio stations. It's a cheap, powerful, fun medium, and over the past few years, some of my happiest memories have involved making an DIY amateur podcast and hosting a student radio show.
Podcasting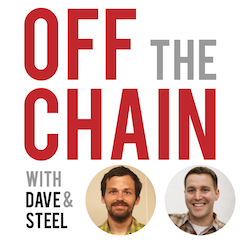 In January 2015 I started making a DIY weekly podcast with my old college buddy Dave Jenson. It's called Off the Chain with Dave & Steel, and it's mainly just a chance for us to talk about things that we think are awesome. Kind of a variety show, with regular segments dedicated to things Dave loves (action movies, incredible feats of human endurance, children's books) and things I love (terrible haircuts, unusual names, documentary films) and things we both love (sports, music, & literature). You can find it on the web, on iTunes, or through Stitcher. Enjoy!
Steel's Magnolias
For several months in 2012, I hosted Steel's Magnolias, a weekly music show on WSUM (91.7FM in Madison), the University of Wisconsin-Madison's student radio station. On each episode I'd play an hour or two of music organized around a single shared theme. Even though I had to stop making the show when I got a full-time job, I still use the site to publish Spotify playlists.
Other Appearances
In the summer of 2014, I appeared as a guest on Ariel Wood's radio program "Beyond the Breakwater", read 3 poems and played some great songs. It was a blast! You can listen to the full show below: